Security app
The Security app is used to manage access in the system by administering users, user groups and user roles. Magnolia's built-in access management system authenticates users in order to determine who is using the system and provides them with the means to sign into applications. It also authorizes users, ensuring that they have the required permissions to do the actions such as editing pages. You can access the Security app via Set up > Security.

Configuration
The Security app is installed by the Security App module. The app is configured in /modules/security-app and comes with the users, systemUsers, groups, roles, tools and public subapps. The public subapp is installed and configured by the Public User Registration module. Permission to access the subapps is limited to users assigned the superuser role.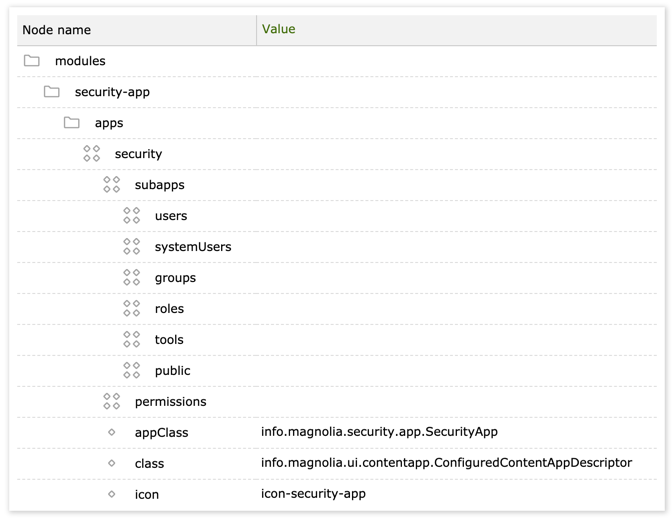 Workspace
The subapps operate on the following workspaces:
| Subapp | Workspace |
| --- | --- |
| users | users |
| systemUsers | users |
| groups | usergroups |
| roles | userroles |
| public | users |
Node types
The Security app module registers the following custom node types in the subapp configurations. The subapps operate on these nodes types and on mgnl:folder.
| Subapp | Node type |
| --- | --- |
| users | mgnl:user |
| systemUsers | mgnl:user |
| groups | mgnl:group |
| roles | mgnl:role |
| public | mgnl:user |