Release notes for Magnolia CMS 6.2.13
Magnolia CMS 6.2.13 is a bug-fixing and security release that also delivers a number of updates and improvements.
Connector Pack and Special Feature updates
Commerce Connector Pack 1.3.1 released on October 6, 2021.

DAM Connector Pack 1.0.8 released on October 27, 2021 and 1.1.0 released on November 15, 2021.
Improvements
Format icons and MIME types appear for uploaded assets
In the Assets app, you can now see the appropriate format icons when you upload the following asset types: PDF, Word, Excel, PowerPoint, video and audio.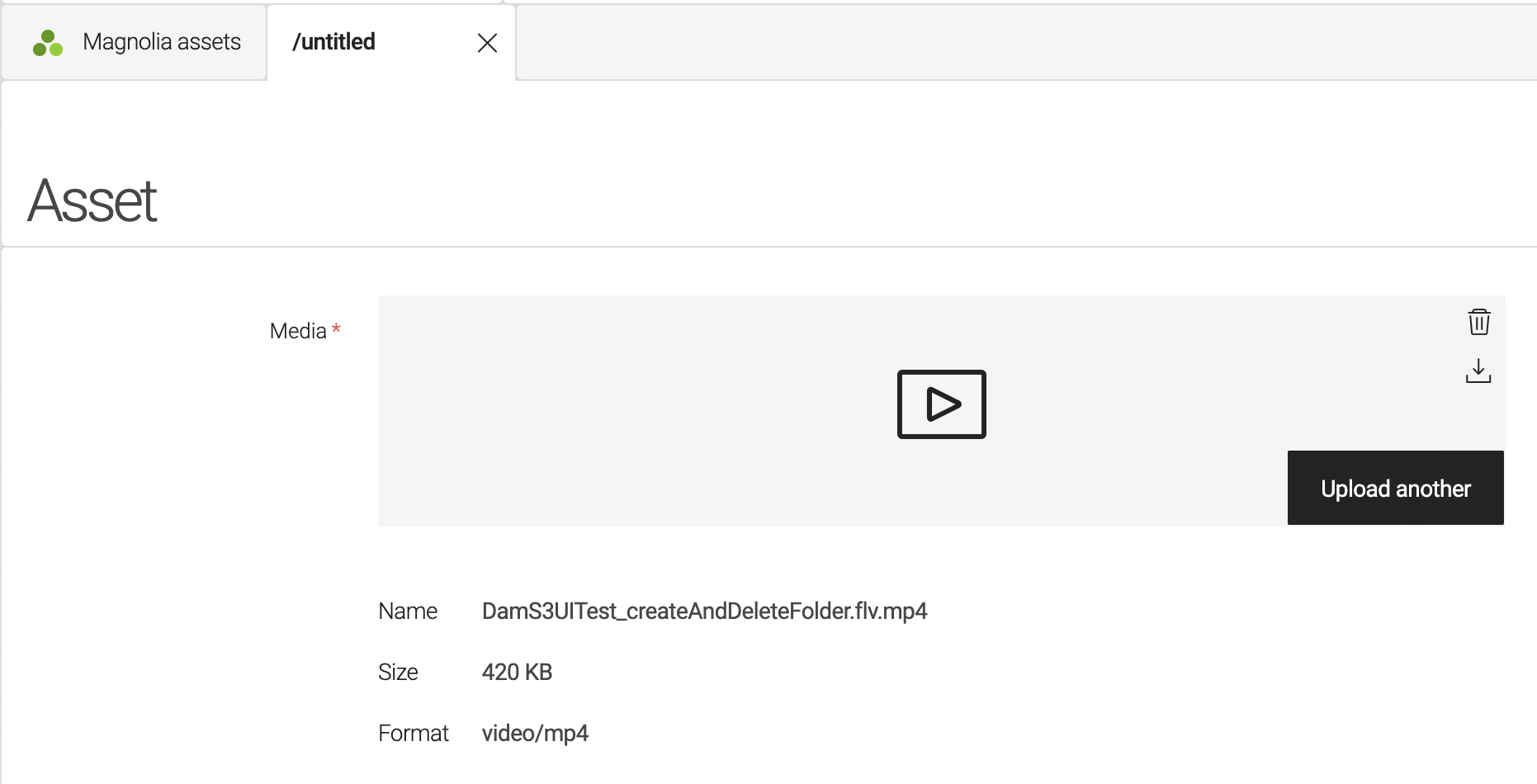 In the asset browser, there is also a new Type column that specifies the MIME type of each uploaded asset.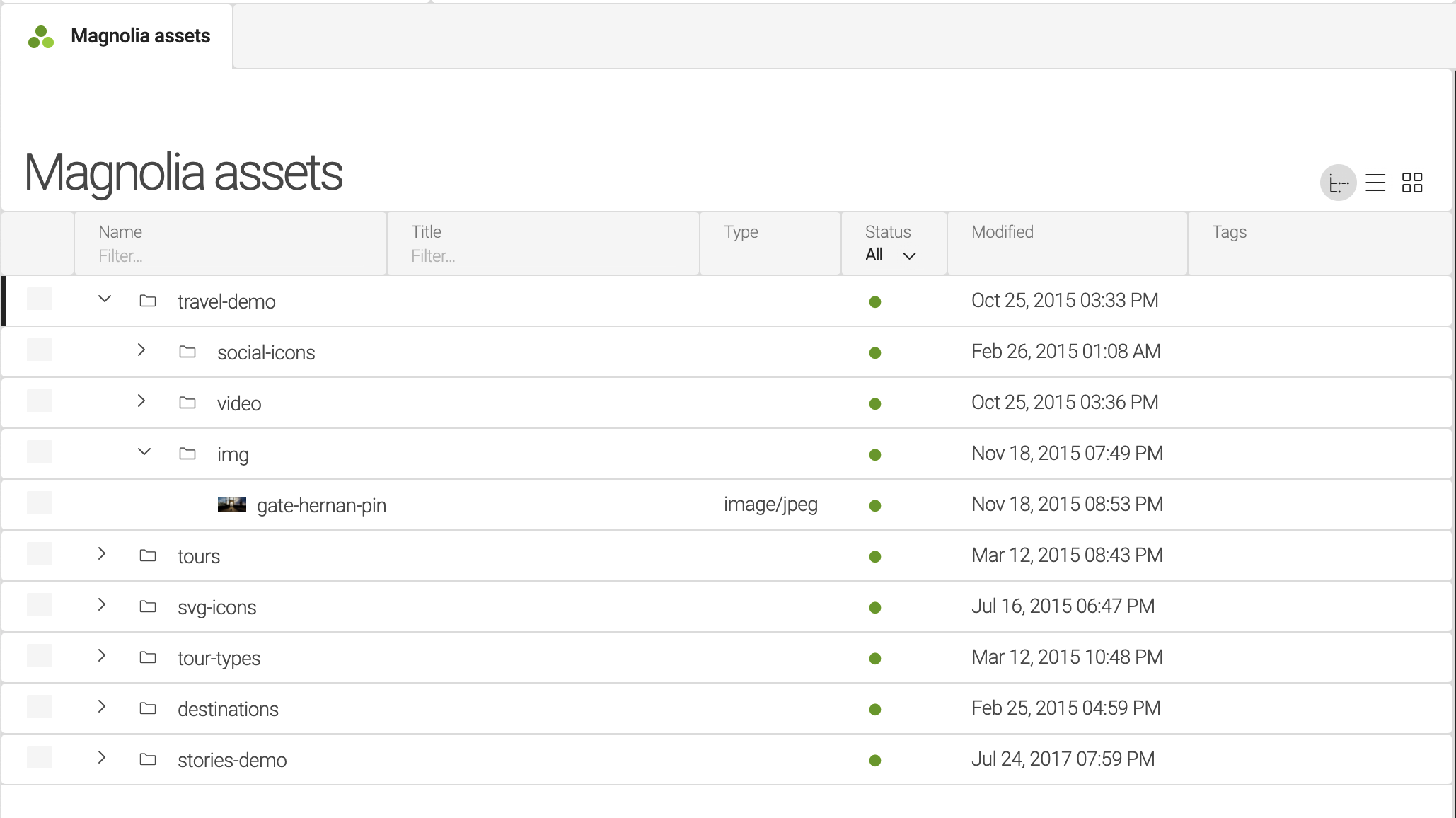 Assets app added to App launcher via decoration
The Assets app has been removed from the JCR App launcher configuration and added via decoration instead. In case of a custom App launcher configuration, you might need to update the resource file or provide your own decoration to move it from the default location. For example:
appLauncherLayout:
  groups:
    edit: #Remove from the default location
      apps:
        dam:
          enabled: false
    manage: #You can still use the old JCR configuration here instead
      apps:
        dam:
          enabled: true
Third-party library updates
This release comes with the following third-party library updates to fix some security and compatibility issues:
Security advisory
We now validate login CSRF tokens with HMAC. The new HmacCsrfToken strategy generates an HMAC CSRF token that expires after a configurable interval. The previous RandomCsrfToken strategy is now deprecated.
| | |
| --- | --- |
| | Logging into Magnolia after leaving the login page idle for 10-20 minutes returns a 403 Forbidden error due to an expired CSRF token. To resolve this issue, reload the login page. |
Updated modules
Barebones Tomcat Bundle 1.2.6

Blossom 3.4.7

Community Edition 6.2.13

Content Dependencies 2.0.3

Content Editor 1.3.10, 2.0.3

DAM 3.0.11

Demo Projects 1.6.4

DX Core 6.2.13

External DAM 1.0.8

GraphQL 1.0.2

Image Recognition 1.2.5

Imaging 3.5.1

Language Bundles 1.1.7

Magnolia 6.2.13

Mail 5.5.9

Pages 6.2.12

Personalization 2.0.12

Publishing 1.3.2

Resources 3.0.6

Site 1.4.3

Text Classification 1.1.4

Third-party library BOM 6.2.13

UI 6.2.13

Vaadin Compatibility Addons 1.3.10

Workflow 6.0.5
Acknowledgements
The Magnolia team would also like to thank everyone who reported issues, contributed patches or simply commented on issues for this release. Your continued interest helps us make Magnolia better. Special thanks go to Jordie Diepeveen, Philipp Güttler, Matthias Müller, Pierre Sandrin and Simon Tourville.