Release notes for Magnolia CMS 6.2.3
Magnolia CMS 6.2.3 is a bug-fixing and security release that also delivers improvements in the following areas: content importing, field configuration and asset management, internationalization (i18n) and third-party libraries.
Content importing
Strategies for bootstrapping content for content types
Magnolia 6.2.2 introduced bootstrapping of content for content types at instance startup. In Magnolia 6.2.3, you can use the two new properties magnolia.content.bootstrap.onlyImportAtInstall and magnolia.content.bootstrap.createTasks to configure a content bootstrapping strategy. Example configurations:
onlyImportAtInstall=true and createTasks=always: the most restrictive strategy. Content is bootstrapped only at installation, not at every instance startup. No content is bootstrapped automatically.

createTasks=onchange: the most permissive strategy. Content is bootstrapped automatically if the path does not exist in JCR. If the path exists, a task is created.

createTasks=never: content is bootstrapped at every startup and after every change.
The default configuration is onlyImportAtInstall=false and createTasks=always.
Possible values for createTasks are always, onchange and never.
Content Importer module now part of CE bundles
Content Importer is a module that adds new bootstrapping capabilities that do not depend on Java modules or bootstrap tasks. The module can be used with both light development and Java approaches.
Already a CE module, it is now also part of Magnolia CE bundles to allow for a better experience when using light development in the Community Edition.
Field configuration and asset management
New link field shortcuts
You can now use the following shortcuts for two preconfigured link field types:
damLinkField for a field that links to an asset.

pageLinkField for a field that links to a page.
| | |
| --- | --- |
| | Thanks to MGNLUI-5350, an M6 app based on a content type can link correctly to an M5 app through the reference:<content-type name> value of the type property in a content type model definition. |
Reinstated features for asset management
The following Magnolia 5 UI features have been reinstated in this release:
Download asset action in the browser subapp of the Assets app (MGNLDAM-849).

Asset preview for fields that link to assets. The screenshots show no preview in Magnolia 6.2.2 (left) and the reinstated feature in Magnolia 6.2.3 (right) (MGNLUI-5979, MGNLDAM-866).

Internationalization
i18n support for option labels in select fields
fields.<field>.options[.label]

<app>.<action>.<field>.options[.label]
Add and Remove buttons in multi fields easier to internationalize
We have added the buttonSelectAddLabel and buttonSelectRemoveLabel properties to the Multi field definition. This allows you to label the Add and Remove UI buttons more easily through custom values either in i18n message bundles or directly in a field definition.
properties:
  multi:
    label: multi
    $type: jcrMultiField
    buttonSelectAddLabel: "Add shopping item"
    buttonSelectRemoveLabel: "Delete shopping item"
    itemProvider:
      $type: currentItemProvider
    field:
      $type: textField
The default (fallback) values for the keys are:
buttons.add=Add

buttons.delete=Delete
Third-party libraries
List of libraries and licenses
The About app has a new Libraries license info tab. It displays a list of licenses for the third-party libraries used by Magnolia as part of the build.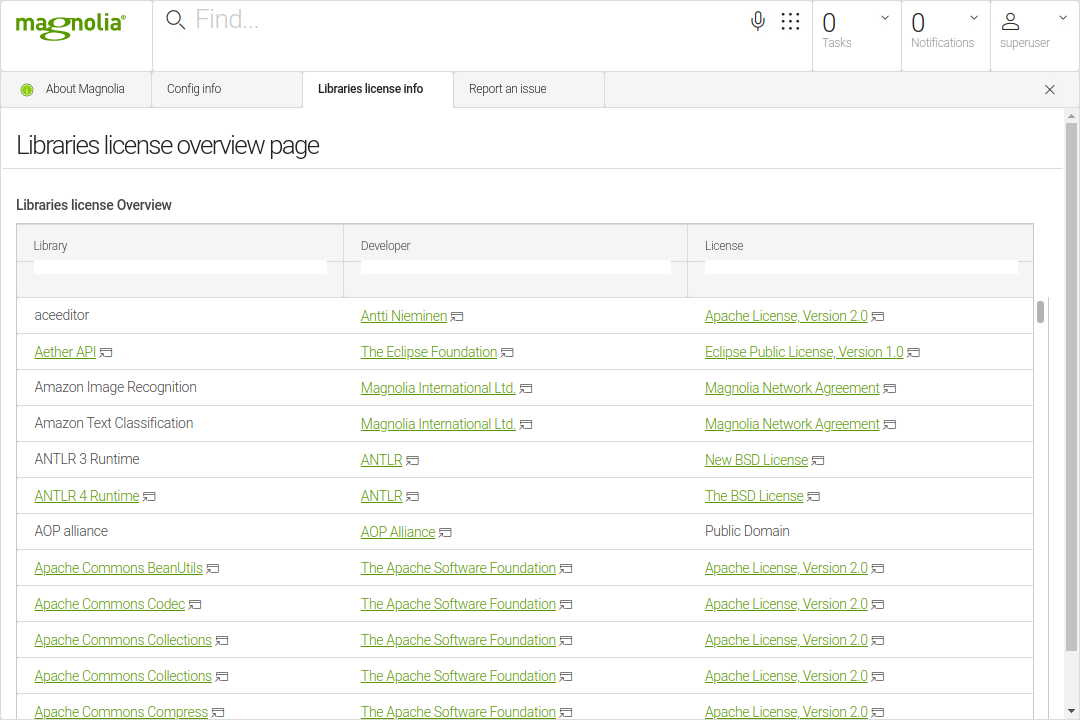 The list is available on all instances, but it is mainly our Magnolia Cloud customers who will benefit from it as that is the only way for them to get an overview of this information.
Library updates
This release comes with third-party library updates to fix some security and compatibility issues as well as improve performance. The following are the most notable updates:
Notable bug fixes
The following issues have been resolved where: